In honor of the 50th anniversary of Wally Wood's creation of the red Daredevil suit, Anthony and Imran are joined by author, publisher, and creator-rights advocate, J. David Spurlock. David is the director of The Estate of  Wallace "Wally" Wood, and co-author of "Wally's World: The Brilliant Life and Tragic Death of Wally Wood, the World's 2nd Best Comic Book Artist." David gives us a peek into the life of the Wood, as well as his contributions to the design of The Man Without Fear and the essence of his character that remains to this day.
Be a part of the show!
Send us a message: speakpipe.com/jockandnerd
Voicemail: (312) 248-4376 (312-248-HERO)
Email: show@jockandnerd.com
Twitter: @jockandnerdcast
Facebook: facebook.com/jockandnerd
Clammer: @jockandnerdcast
Subscribe: iTunes |  SoundCloud | Android | Stitcher | TuneIn |  Player.FM  |   RSS
Rate and review us in iTunes! jockandnerd.com/review
Show notes: jockandnerd.com/38 and jockandnerd.com/wallywood
Links and other stuff we talked about
J. David Spurlock, Director of the Estate of Wallace Wood
Because of my decades working with, and serving creators and their rights (Jim Steranko, Al Williamson, Neal Adams, Jeffrey Jones, Carmine Infantino, John Buscema, Bill Sienkiewicz, Frank Frazetta, Dave Stevens, Joe Kubert, Frank Brunner, Julius Schwartz, etc), Wood's longtime associate Bill Pearson recommended me to Estate Executor Jack Robinson, to take over management of the Wood Estate. I was honored when they decided I was the best man for the job, as no talent is dearer to my heart than Woody.

My entire career has been dedicated to serving artists and art education. I founded the Wood Scholarship Fund with Woody's brother at the School of Visual Arts in New York where Wood studied under Burne Hogarth and where I taught years later, alongside Joe Orlando, Will Eisner, Art Spiegelman and so many others. I have represented Jim Steranko for over 20 years. Prior to which, Jim was doing only about one appearance a year. He is now winning awards and breaking sales records and being published by Entertainment Weekly.

I have taught art for decades at top schools, including SVA, The Kubert School and before moving to New York, I taught for a decade at the University of Texas and I served multiple terms as the President of the Society of Illustrators in Dallas. My publishing is but an arm of the various ways I promote artists and their work. I was instrumental in Carmine Infantino receiving one of the best settlements in comics history and served him faithfully until the day he died. I won an important, precedent-setting copyright case (at great cost to me personally) which proved that all artists have the right to having a career-spanning book — even when huge corporations claim to controlling rights to much of their work. I unwaveringly supported my late friend, Jack Kirby's fight for his rights and have been an invited speaker at various official San Diego Comic-Con Kirby panels hosted by our mutual friend Mark Evanier, including again this year. I was also invited by Comic-Con to write the official Wood bio in this year's Souvenir Book. Many details of Wood's life were first revealed in my Eisner acknowledged Wood biography, WALLY's WORLD.

I have authored over 30 books on art and the career of artists — some, I'm proud to say have earned honors from the Eisner Awards, New York Times, The Society of Illustrators, Hugo Awards, MTV, Rondo Awards, New York Village Voice, Ippy Awards, etc. While other publishers (including Marvel) pay nothing to artists and/or their estates on similar career-spanning books, I work directly with the artists and/or their heirs, and believe truly honoring an artist requires payment.

The Wood Estate is dedicated to education about, and the furtherance of, the work and legacy of the Hall of Fame author-artist, Wallace "Wally" Wood. Our prime interests include the establishment a Wood museum. For accurate, entertaining and educational information on Wood, his work, and his Estate, please see the "Wallace Wood Estate" page on Facebook.

Right now, we are particularly interested in discussing the 50th Anniversary of Wood's Creation of the Red Daredevil.

That subject can be connected to the tragic irony that, in this 50th anniversary year, though over a dozen comics creators are acknowledged in the current hit Netflix Daredevil show, the man many feel saved the character from cancelation, and Marvel that called "Kid Daredevil Himself," is amazingly, absent from the credits. Most professionals who have commented on the subject feel Wood deserved to be credited beside Bill Everett and Stan Lee at the show opening.
Links
We love A Place to Hang Your Cape, your one stop shop for all things comic books! Sign up for their newsletter to receive free comic books today!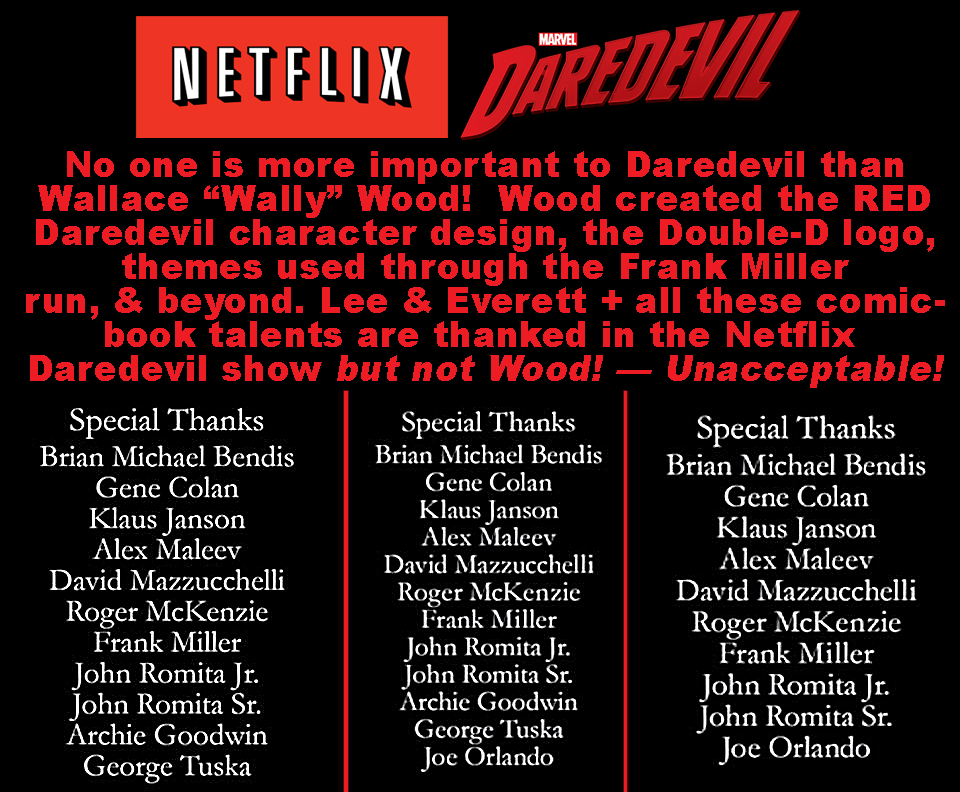 Podcast: Play in new window | Download | Embed
Subscribe: Apple Podcasts | Android | RSS